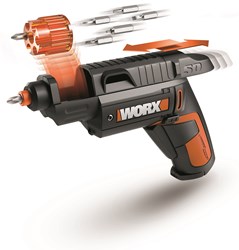 Charlotte, N.C. (PRWEB) December 10, 2013
The whole family will have reason to rejoice when you give the WORX AIR cordless blower sweeper, which comes with eight special-purpose attachments (W545.1, $ 99.99). WORX AIR is designed to create a clean zone in seconds around the homes perimeter, thus blocking up to 85 percent of dirt thats tracked, blown or carried in through entry doors, garage, patio, deck and workshop.
For example, the AIR Wand functions like an air broom for clearing dust and debris. Theres an AIR Dust Brush to clear out cobwebs, patio door tracks and other hard-to-reach areas. An AIR Compact Tube delivers a concentrated air blast for quick clean-ups of campers, tents, patio steps and more. The AIR Detail Nozzle attaches to a flexible AIR Extension Tube for sensitive dust clearing of computers, engine parts and finishing applications. An Inflator Nozzle is ideal for inflating beach rafts, air mattresses and other inflatables, plus a Deflation Cover for removing air for storage.